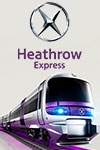 Heathrow Express
Price from $ 32.20
Jump on the Heathrow Express and arrive in London quickly,easily and in comfort. Purchase either a one way or round trip ticket between Heathrow Airport and Paddington Station. The journey takes approximately 20 minutes.

Special offer! Children travel free on the Heathrow Express! However, all children between the ages of 5 -15 do need a valid ticket (price $0.00).

From Paddington Station you can easily take the tube, a bus or grab a cab to your final destination including Piccadilly Circus, Oxford Circus, Trafalgar Square, Covent Garden, Notting Hill and more.

Why book with us?
Book your Heathrow Express tickets here and save time.

- Receive e-tickets immediately
- Skip the lines at the ticket machines at the station
- Ticket categories: adult or child, one way or round trip
- Children under 5 years old are free when accompanied by an adult
- The ticket is valid in either direction to or from Heathrow and Paddington Station

How do I book my tickets for the Heathrow Express?
When booking your tickets, select the "valid from" date as the date you will first use the train ticket. If you book round trip tickets, the return journey back to Heathrow Airport must be used within 28 days from the "valid from" date you have chosen.

Please note that you will receive 1 ticket that is valid for the total number of people in your party - rather than 1 ticket per person. Check your ticket carefully and you will note this.

How do I use my tickets?
- Print out the e-ticket sent directly from Heathrow Express to your email address entered at time of booking.
- Outbound journey: Present your e-ticket to the train staff. The bar code will be scanned.
- Inbound journey: If you have booked a return ticket, just use the same e-ticket for the trip back to Heathrow Airport and the train staff will again scan the bar code for the return.

Are there child rates for the Heathrow Express?
Yes, child rates are available for the Heathrow Express. Special Offer: Children between the ages of 5-15 ride free! Children under age 5 also travel free when accompanied by a paying adult. (Up to 4 children can travel free with each ticketed adult).

Important information:
- Shortly after your booking is complete, you will receive a confirmation by email. Please note: You will receive your e-tickets in a separate email. Please print your tickets and bring them with you on your trip.
-Note: It is your responsibility to check the train timetable before your journey, especially the train times to and from the airport for flights that arrive or depart very early in the morning or late at night, or in case there is limited service due to maintenance work, etc.
- On bank holidays the Heathrow Express will not run as frequently as normal, and on December 25 the Heathrow Express does not run.
- Please note: From December 24-28 the Heathrow Express doesn't operate and on December 23 The Heathrow Express only runs until 9PM.
Why shop with us?

Over 3 million tickets sold

You pay in dollars with no hidden fees

25 years of experience in ticket sales

100% secure payment system